Blinds

South Coast Bi folds have a selection of great blinds to compliment your bi folding doors.
Electric Roller Blinds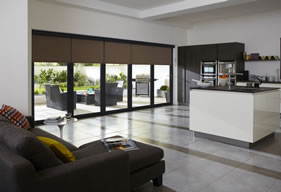 Our electric roller blinds fit neatly above your bi folding doors, discreetly held within a colour co-ordinated cassette. Electronically operated by a hand held remote, you exercise complete control over their operation.
Available in a wide range of colours and fabrics, we also provide patterned and water resistant options.
"If you have the space, some of our clients even box the cassette in, so that it is completely hidden. With slits cut in the timber, when activated it seems as if the blinds are coming out of the roof!"

Internal Blinds - High performance, modern and contemporary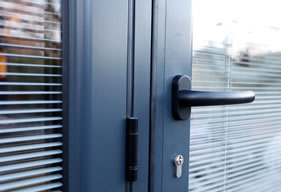 Our pleated or Venetian blinds are housed within double glazing units. A modern option, they stay on trend with bi folding doors.
Venetian blinds can be operated by a rotational cord, ­ this positioned at the top of the pane facing downwards. Twist accordingly to open or close.
Magnetic h
and controller
Bi-fold's pleted blinds have become our best selling option, due in part to the external magnetic device that controls them. Modern and contemporary, they never fail to impress.
Extensive Colour Range
Available in an exciting range of colours and fabrics - including plains, patterns and voiles - we also offer translucency and water-resistant options.